December 17, 2015
Slow and steady…non-native undesirables, vines and undergrowth being cleaned from perimeter edges…more to come.
November 26, 2015
Sunset in London…all tucked in ahead of rainfall…Deb, Brent, Matt, Rob and 1 tired dog finishing things off…
November 25, 2015
Getting it done…collar trenches and drainage chimneys complete…last covers going on tomorrow…job well done!
October 26, 2015
Sand, tine, blow and roll…9 holes of tees and greens completed today…9 more holes tomorrow = oxygen benefits.
October 10, 2015
Seeded and covered. Using low precipitation rate hose rotors during play to flood tee deck; great when golf is busy.
October 8, 2015
Early October deep tine aeration and rolling now complete…additional topdressing and venting to follow next week.
October 7, 2015
A better shave…not only does brushing lift the grain but it is the old fashioned way of removing worm casts…

September 24, 2015
Thank you to Membership…all greens and aprons verticut, blown, cut, sanded, brushed and rolled today…smooth.
September 12, 2015
9 rough and green surround project was well worth the while…site lines to & from new patio much improved.
September 9, 2015
The 14th green has survived this summers intense stretch of heat and humidity because of new found morning sun…
September 8, 2015
#7 green complex has benefitted from growing environment improvements…summer stress is a little more tolerable…
September 7, 2015
How far the growing environments have come…before and after course photos this week…#18 green in 2012 and now…
September 5, 2015
This hand built, sod stacked, gravel based, lined bunker is the only bunker not to wash out today…effort worthwhile.
August 29, 2015
Finishing touches…the grounds are ready for today's first summer wedding…the new ballroom extension is beautiful.
August 26, 2015
The quote below and accompanying picture sum up the efforts of many a student Grounds Keeper..thank you!
August 25, 2015
The "caboose" is back in action…short range practice facility receiving a much needed fairway aeration today.
August 21, 2015
Happy for our Members…it's been a long wait but looks beautiful and sounds great tonight…live music on the patio.
August 21, 2015
Beautiful day; 33,000 sq.ft. of sod to be laid around new Clubhouse expansion plus, round 1 Club Championship begins.
July 27, 2015
Just over half way….maximum effort and hydrated, healthy turf going into core aeration helps…
July 18, 2015
2 hrs. into our morning duties…foggy, humid and warm start to Day 2 Member Guest…
July 16, 2015
Preparations began January 4th…192 days later Member Guest begins tomorrow…
July 15, 2015
Finishing touches…in-house stone, landscape and drainage work being completed in advance of this weeks Member Guest.
June 24, 2015
Incredible example of what can be achieved when commitment and drive combine…all 3 ac. bunkers repaired in 24 hrs.
June 21, 2015
A big thank you to my Grounds Team this Father's Day evening…preparing for the 46th Triangular Team Matches.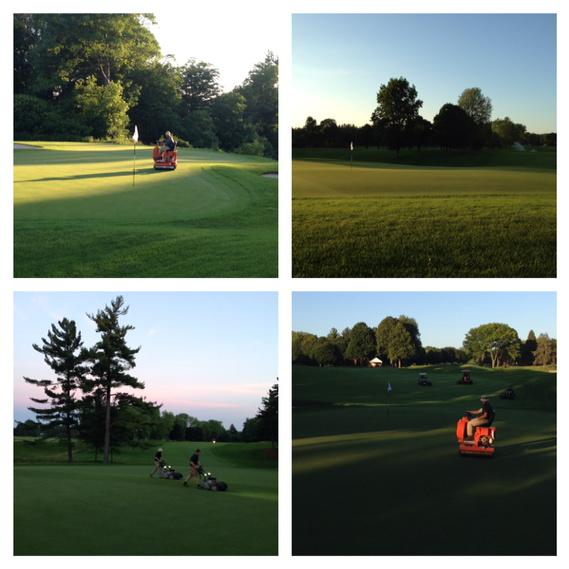 June 20, 2015
Water killed it and water brought it back…low pocketed fairway areas suffering hydration injury are almost back…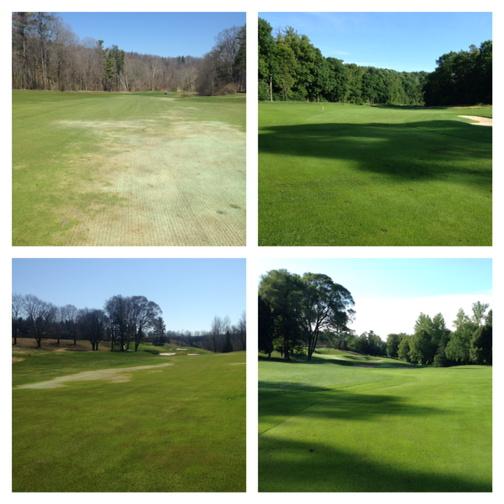 June 16, 2015
The unseen effort…60+ hrs. of labour spent daily before 10 am on bunker rotary…it takes a dedicated team.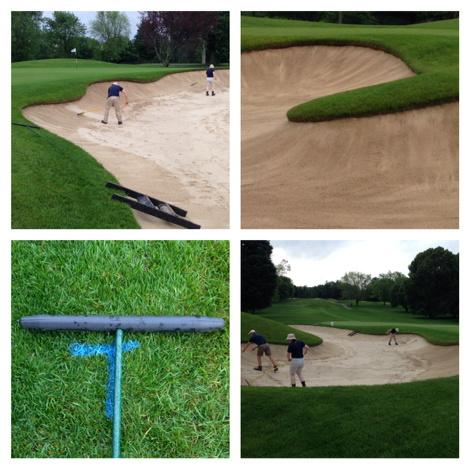 June 3, 2015
No trespassing please…ice damage from a winters walk being helped along…seed, sod and extra effort on hole #11.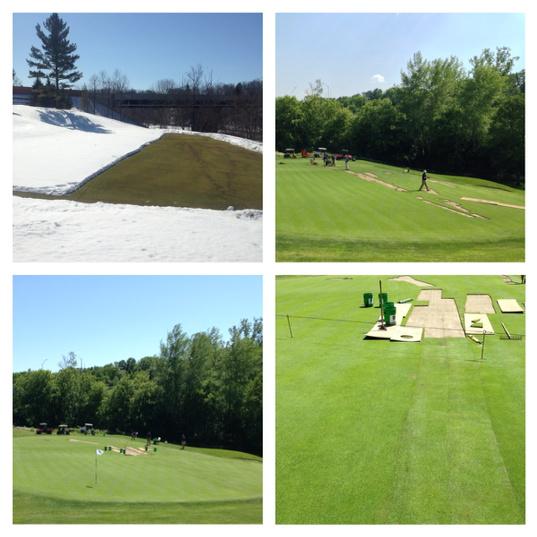 May 29, 2015
Air in and air out…2014 Woodlot Project now allows air exit and entrance…cooling effect now in place.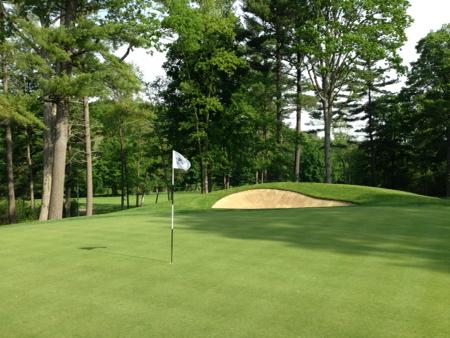 May 22, 2015
Perfect timing…last spring project completed today…9 bunker readied for today's Member/Member…enjoy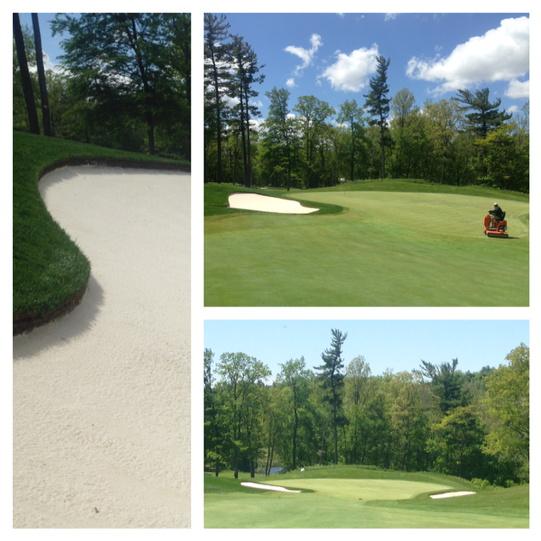 May 21, 2015
Another project complete…#17 apron replaced with 1 inch Kentucky Blue this morning…turf used to expand #9 apron.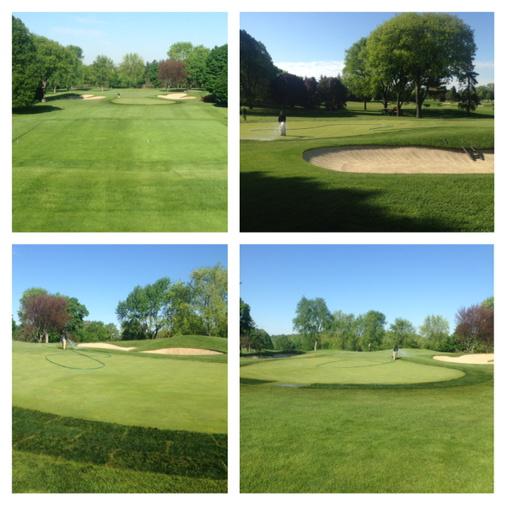 May 14, 2015
Short Range maintenance day…large putting green 12% organic matter removal with 12,000 lbs of sand injected = firm.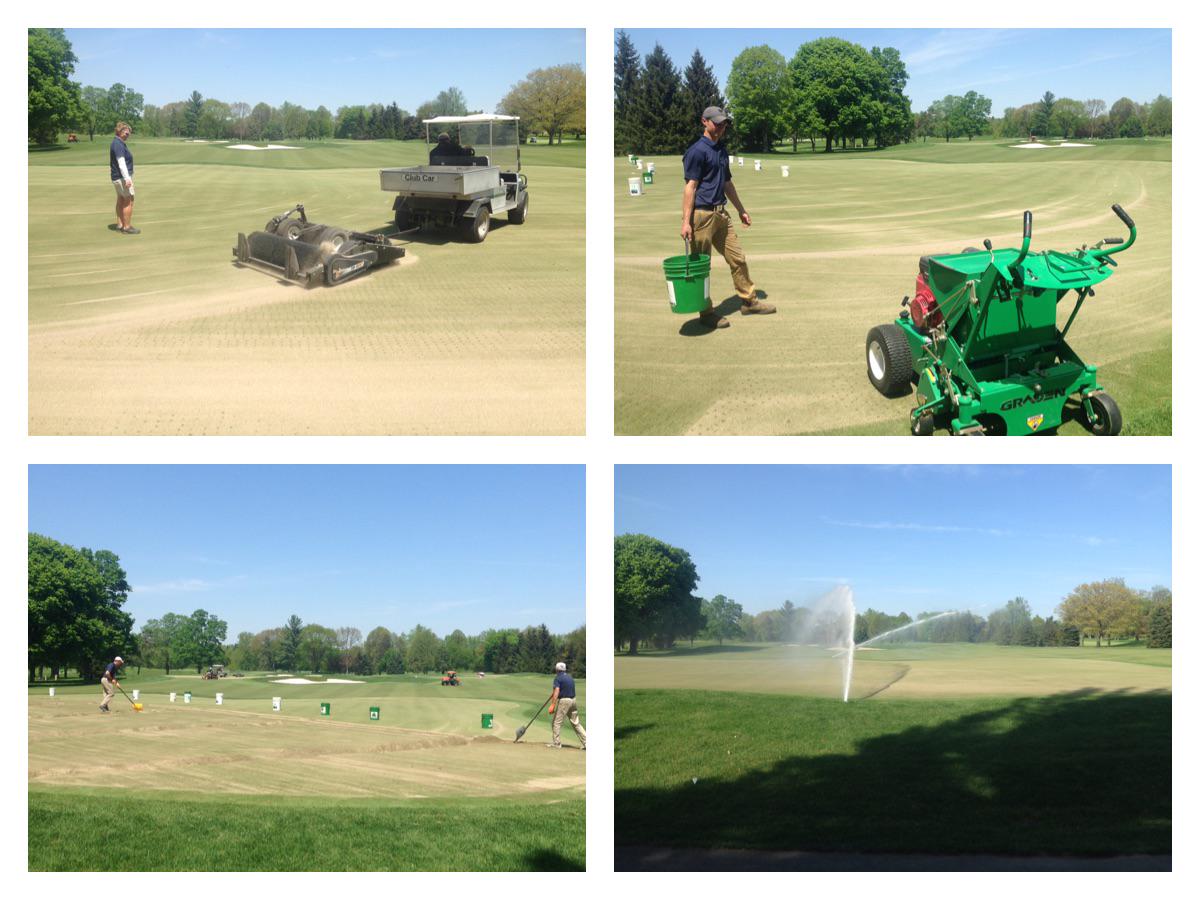 May 13, 2015
Almost finished…1st tee re-alignment and expansion needing a little extra…bluegrass now complete.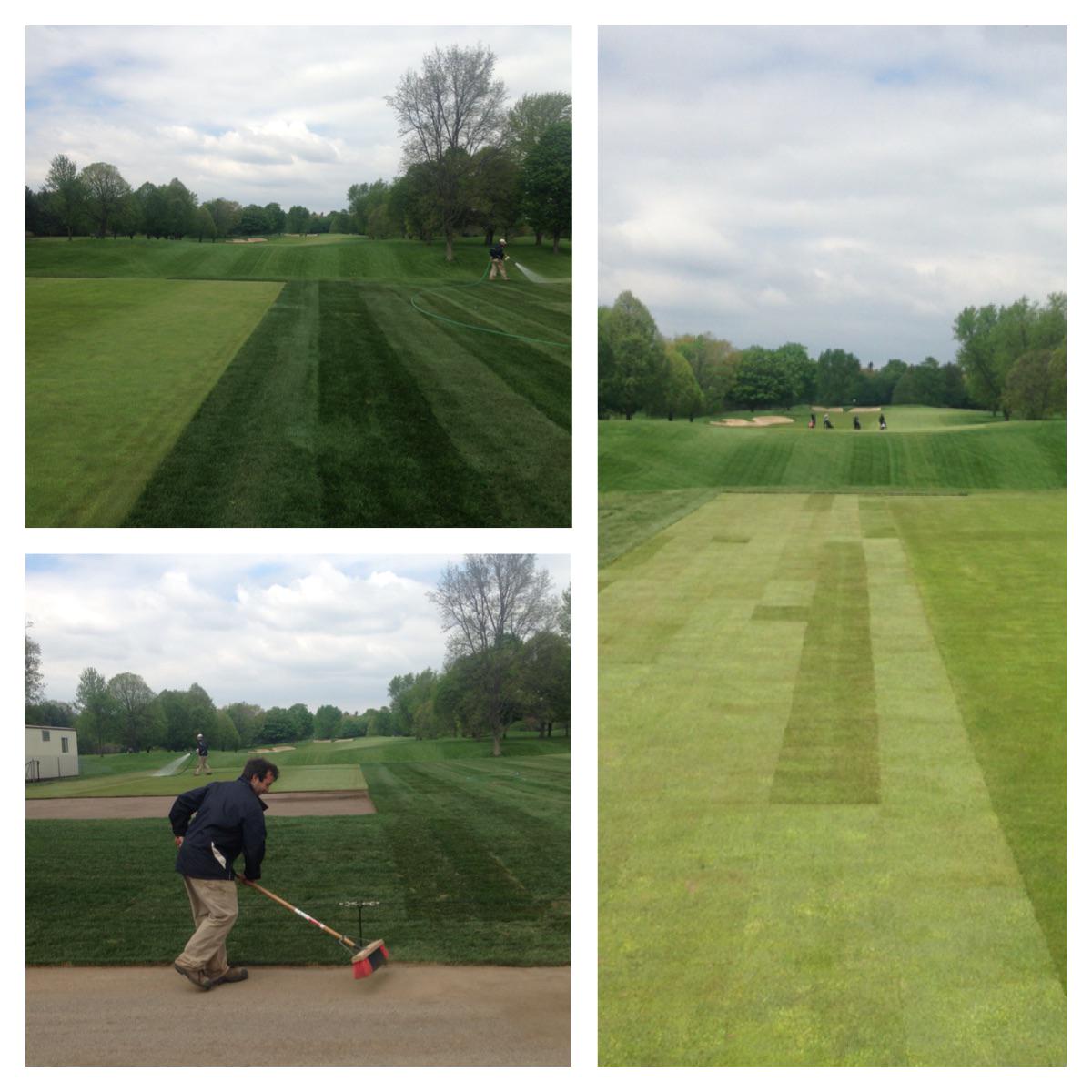 May 13, 2015
Quality work…Scott Hunt and his Team from Green Horizons are doing a good job finishing the 9th project…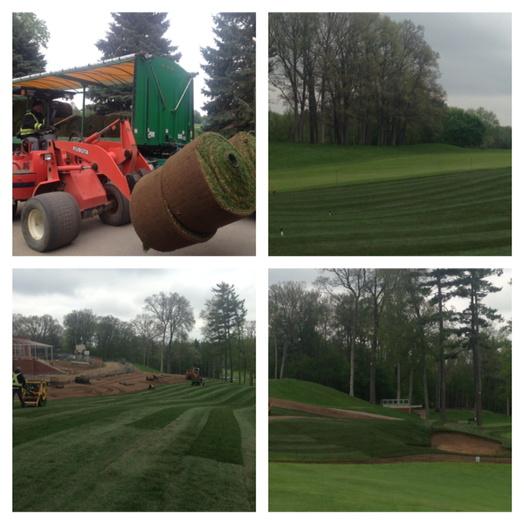 May 13, 2015
Cool weather ideal for laying sod…project wrapping up today with Billy Bunker and sand placement to follow…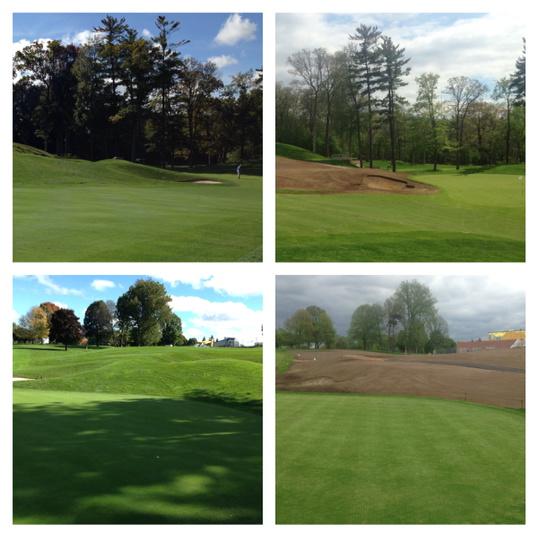 May 8, 2015
Opening up the front will allow for the bump and run…topsoil placement and shaping today…sod next week.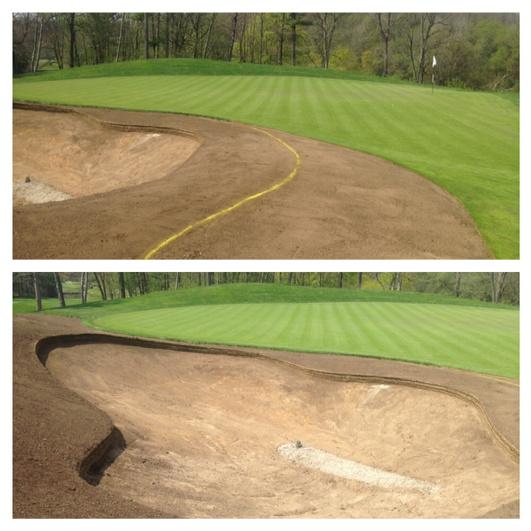 May 2, 2015
Steve Weisser, Rees Jones Inc. defining the line with Vergeer Golf…9th green project nearing completion…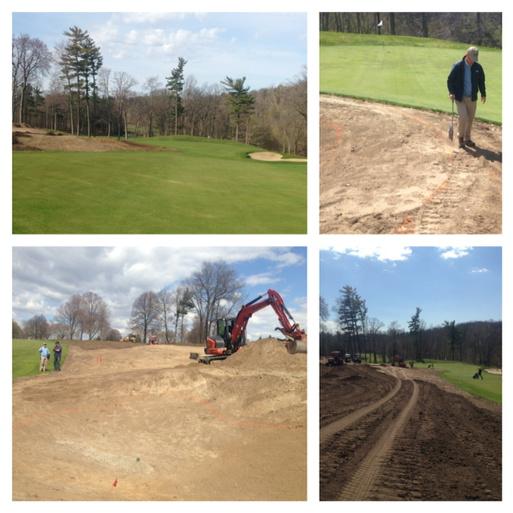 May 1, 2015
Not totally unscathed…aggressive overseeing and recovery underway from untimely, mid-winter, non-member traffic…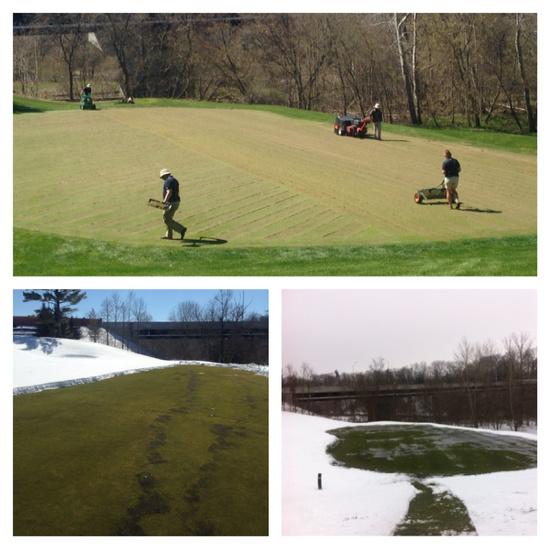 April 29, 2015
Maximus Dryject being incorporated into Graden program…moving water, air exchange and firmness are the goals.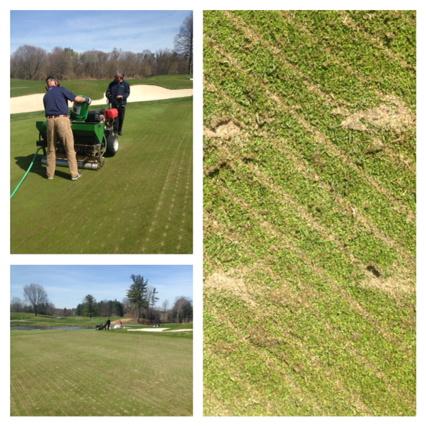 April 29, 2015
Perfect weather; 5 greens to go plus DryJect, seeding, topdressing, brushing, cutting and rolling of greens #teamwork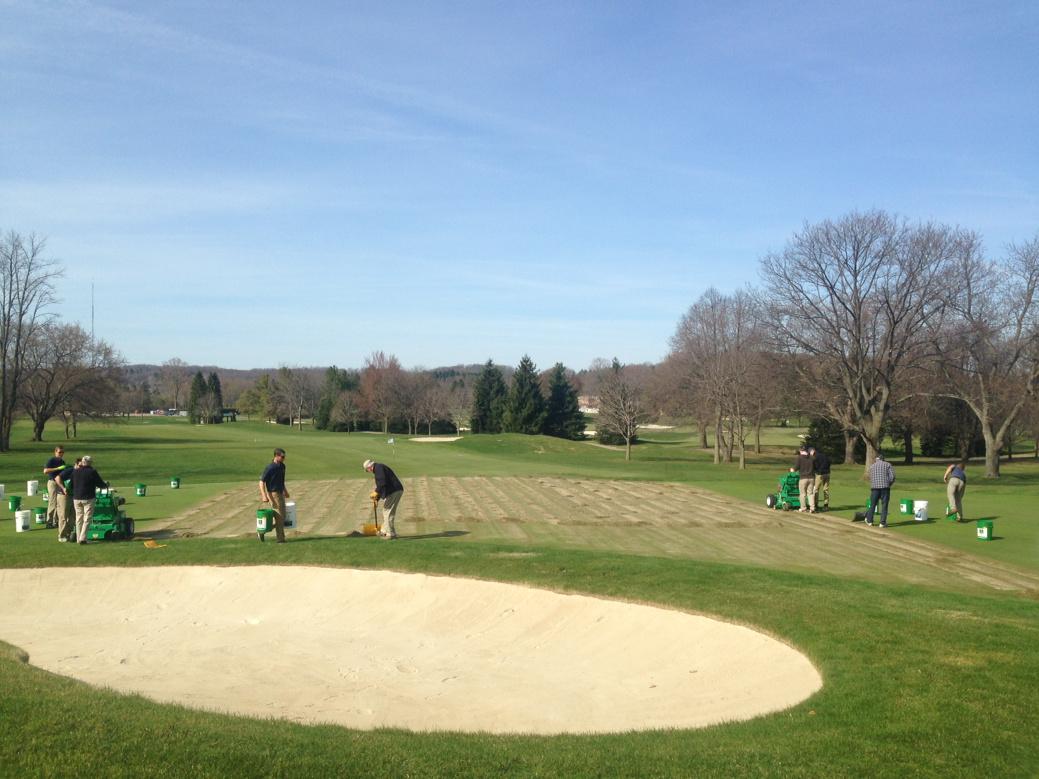 April 22, 2015
Using a rake…some things they don't teach you in school…rootzone being graded in advance of 1 tee re-alignment…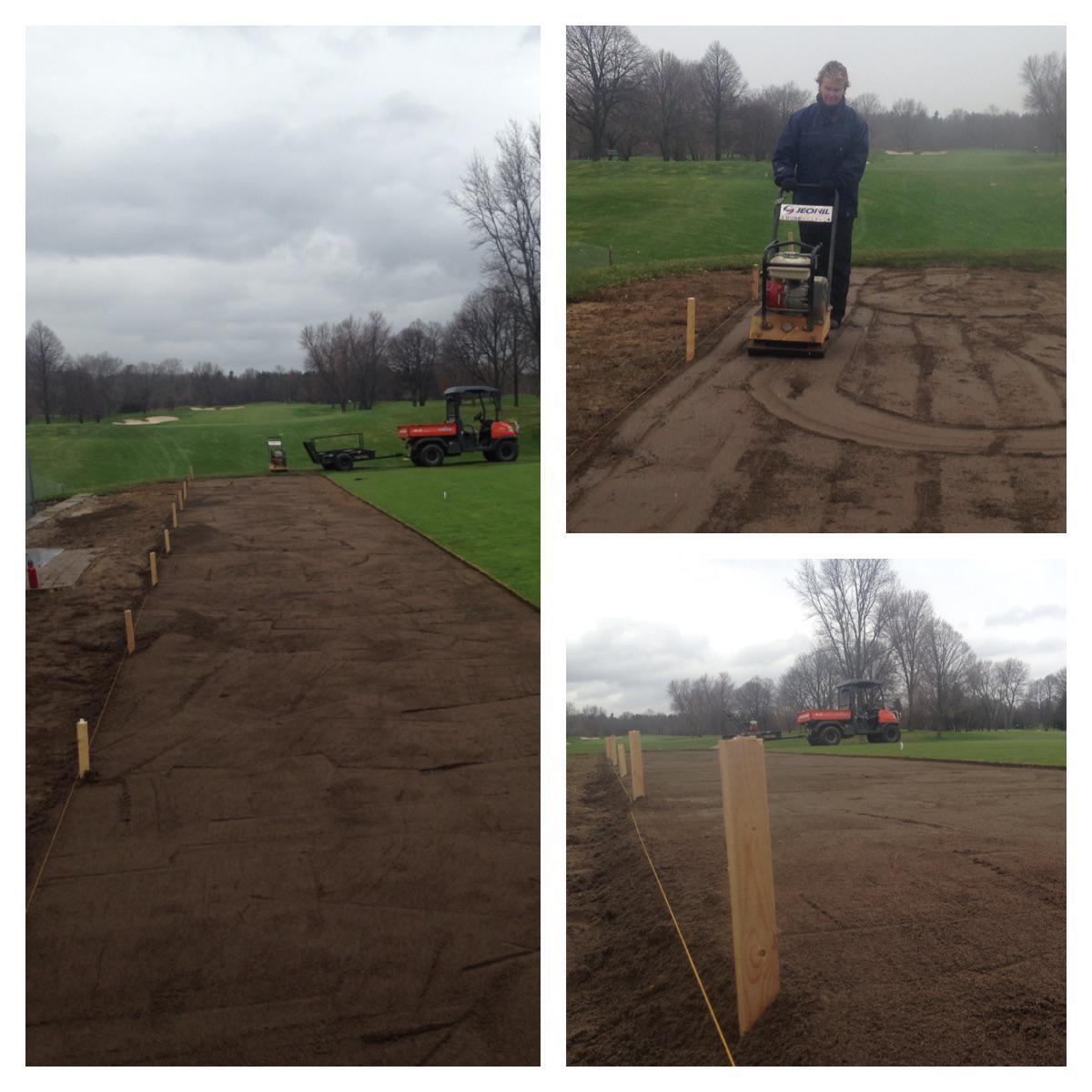 April 20, 2015
Saturday's weather allowed for final clearing, mulching and grinding of understory areas…seeding next…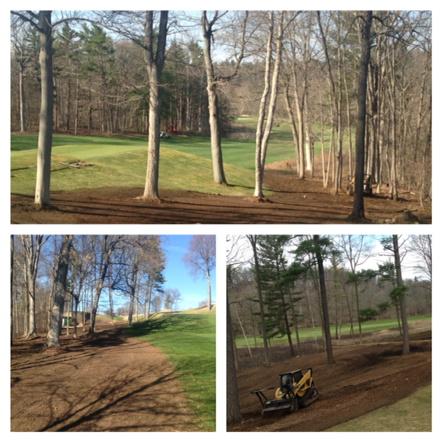 April 13, 2015
Aerifying and Sisis begins…all tees and fairways to be completed before course opening.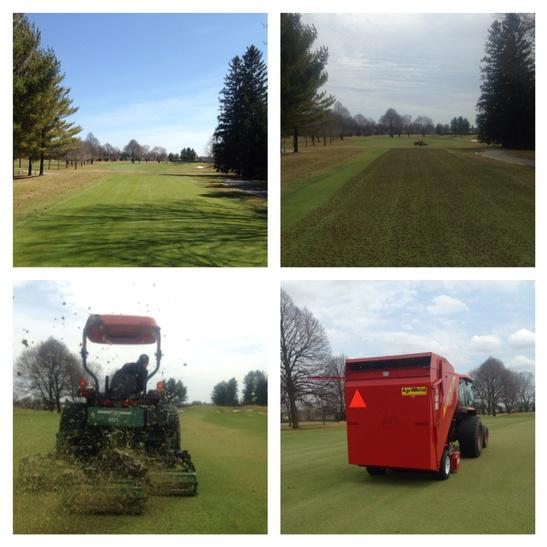 April 1, 2015
12 green year over year…morning sunlight 100%, afternoon receives dappled light from woodlot thinning project…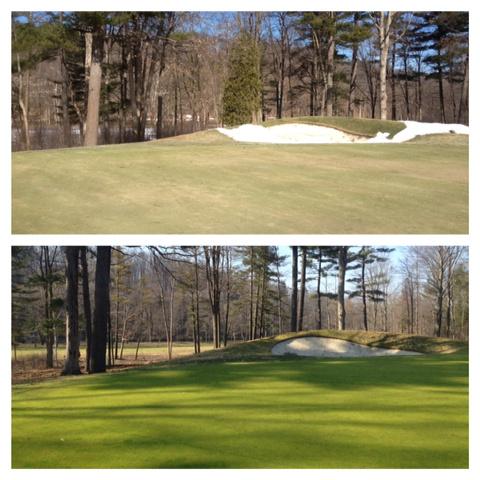 April 1, 2015
2014 vs. 2015…collar dams, sunlight improvements and winter ice removal may have helped this year…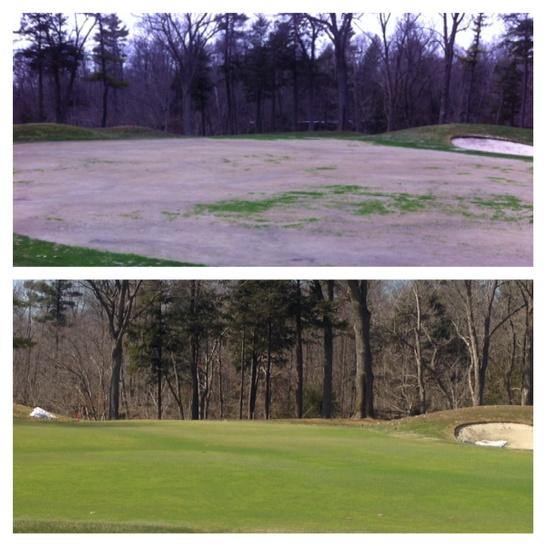 March 9, 2015
And so it begins…heavy snow pack exists throughout course…drainage channels all open in advance of melt…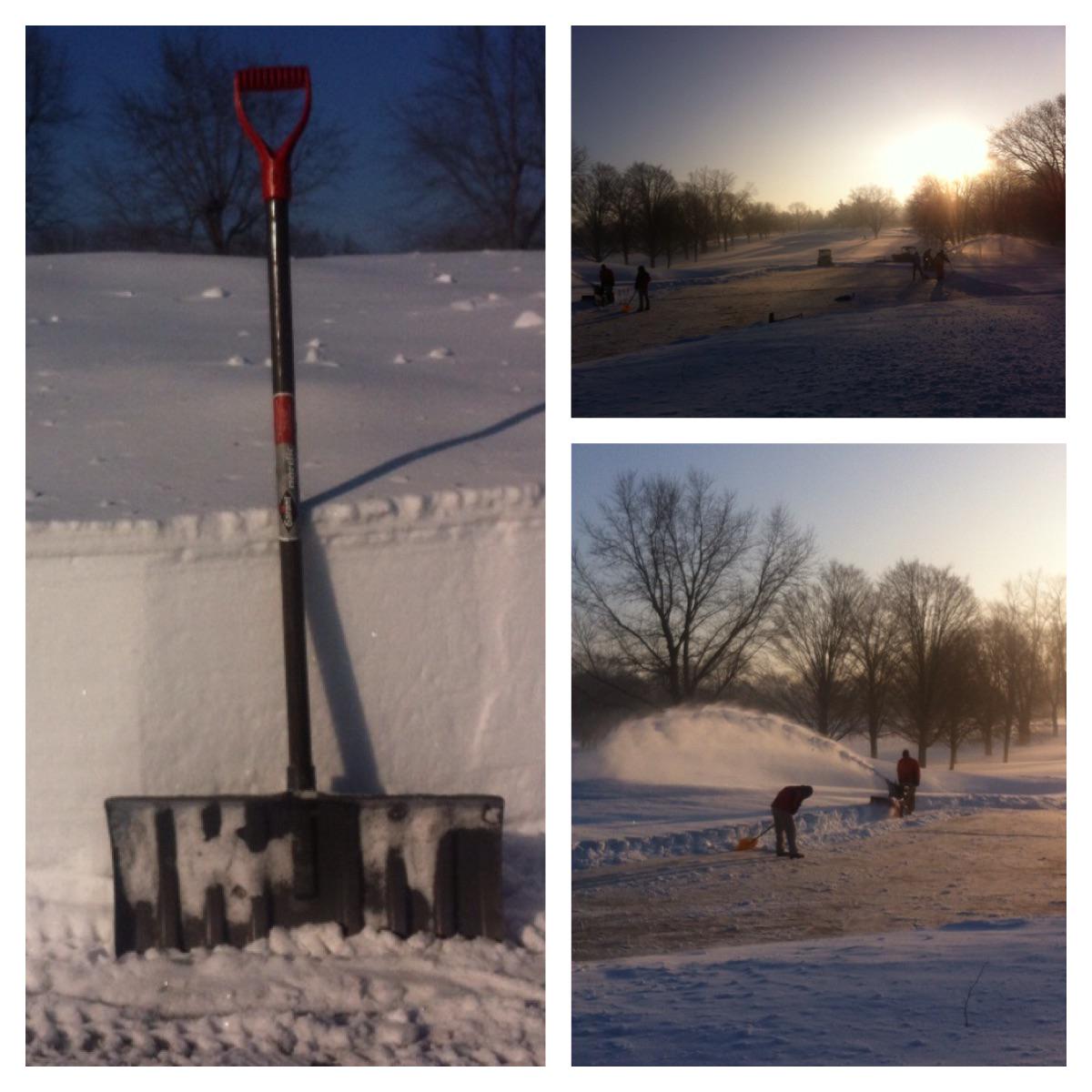 February 14, 2015
Perseverance….Matt and Brent are truly dedicated Greenskeepers…even in the winter…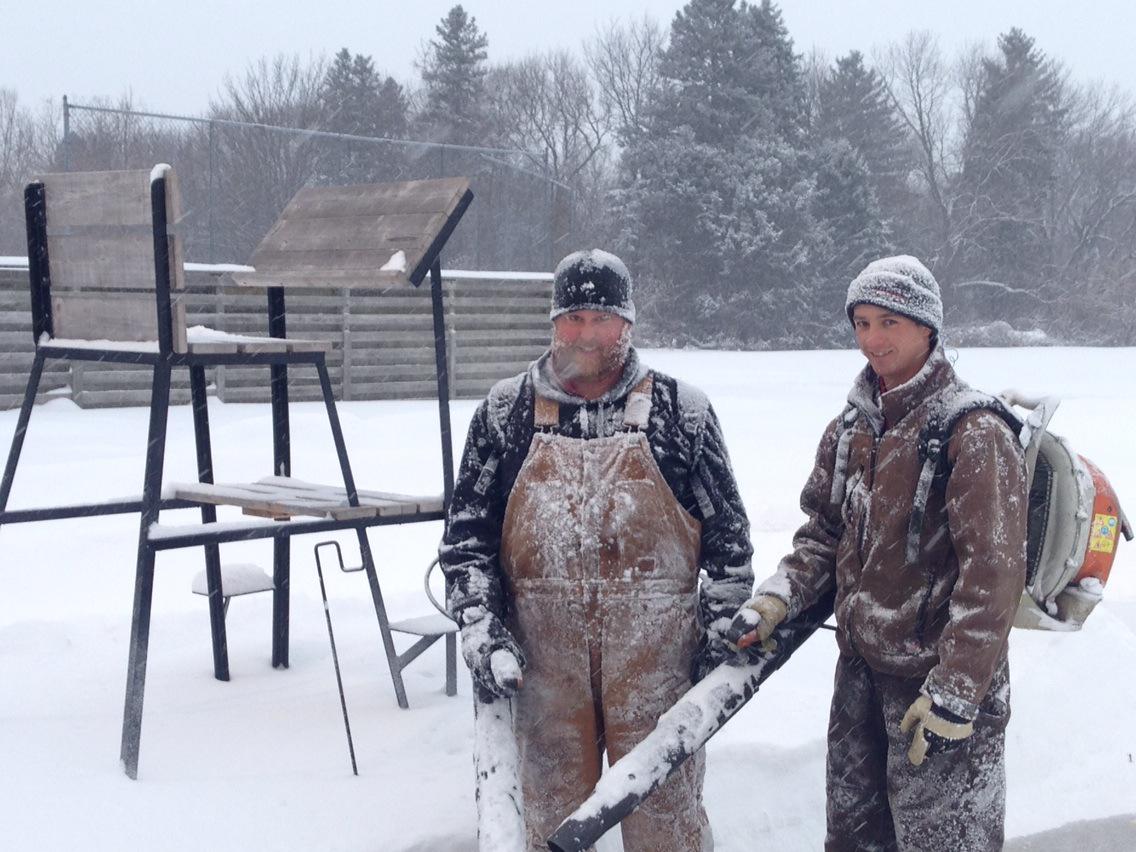 February 13, 2015
Woodlot thinning before and after…airflow + sunlight benefits…understory fescue and pollinator plants to follow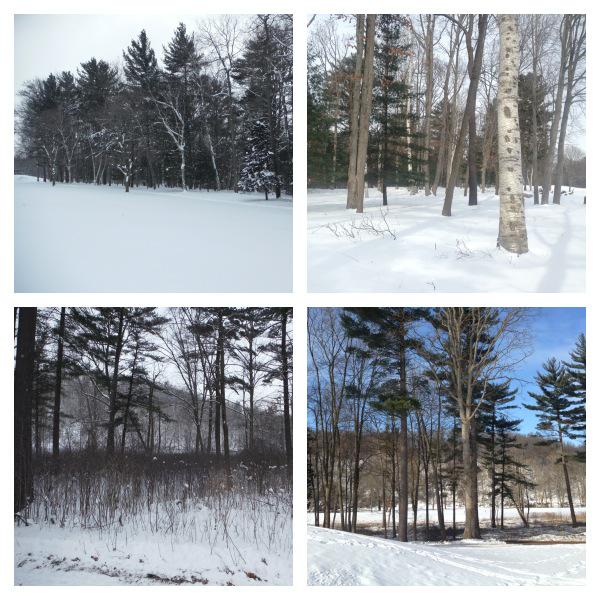 January 24, 2015
5 tons of black sand helped speed up the process…just a few hours of sunshine short of being cleared…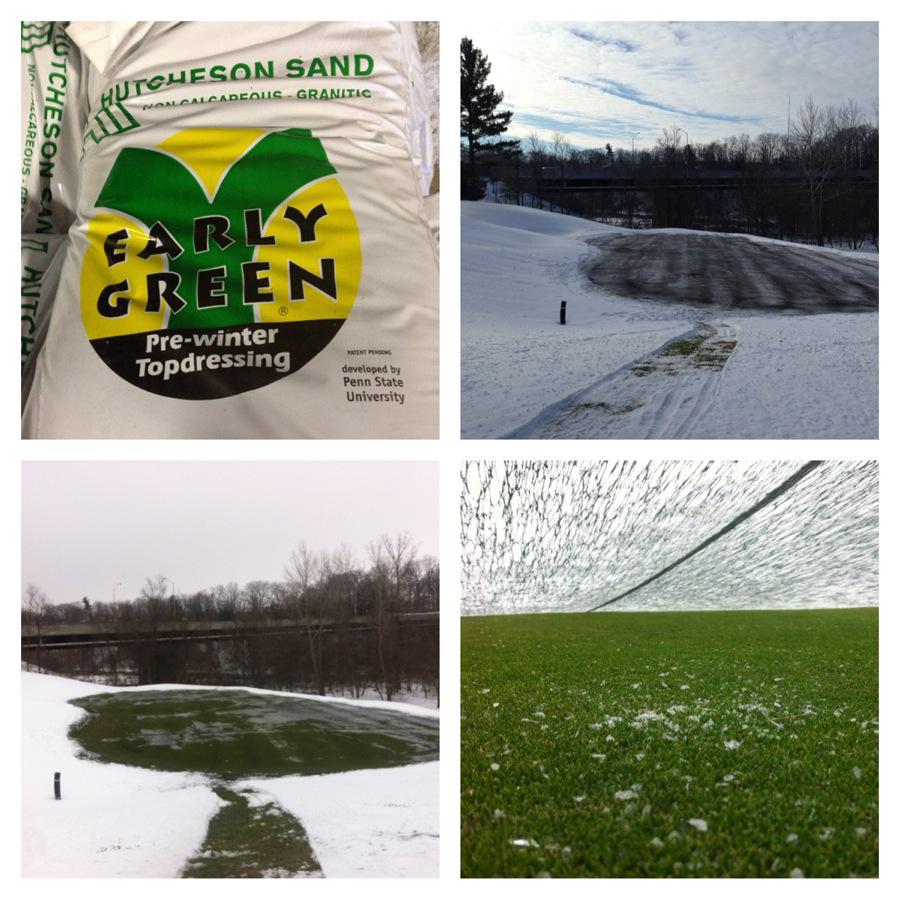 January 23, 2015
January's weather forced steady action…snow, rain, slush, ice, snow, rain, slush…14 greens cleared, 4 more to go.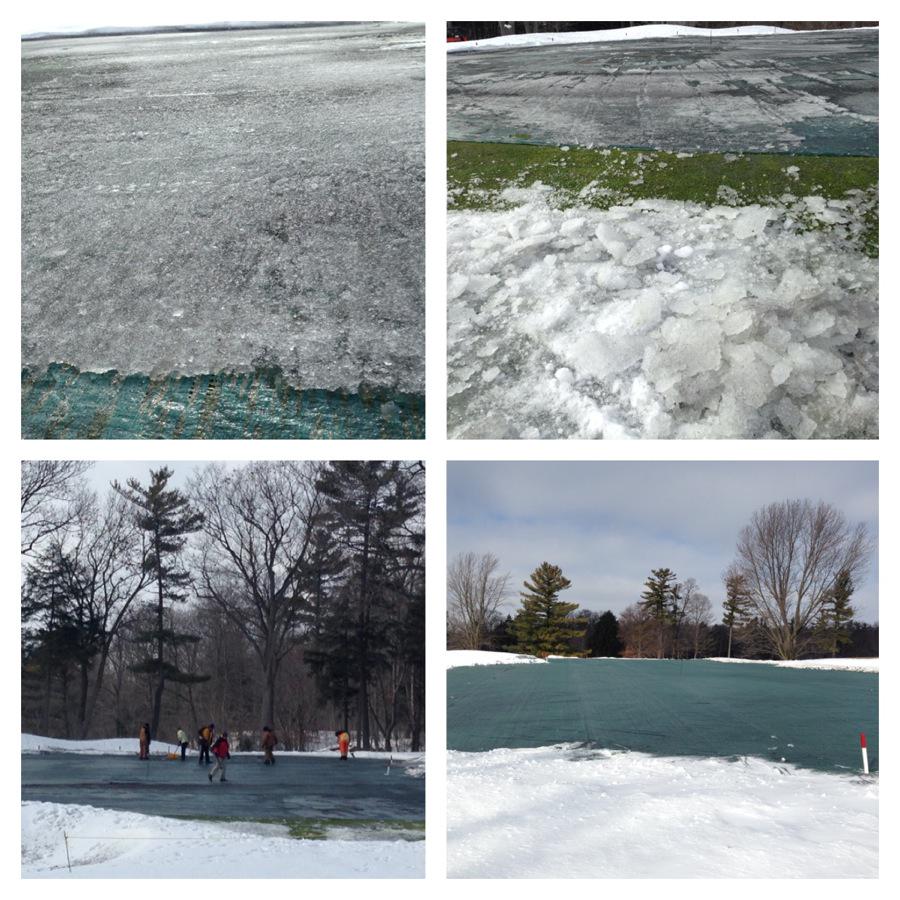 January 13, 2015
Prescription woodlot management project under way…healthy native trees promoted, hazardous declining trees removed.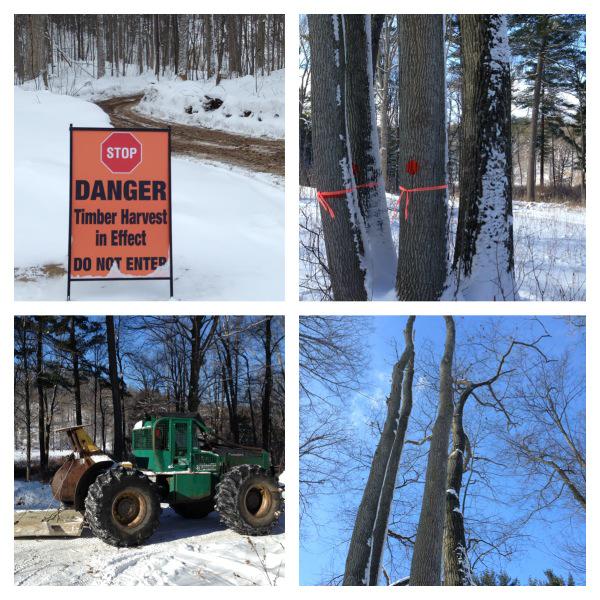 January 4, 2015
And so it begins…dedicated Grounds team in to remove surface slush prior to freeze up…